We all know that government of Canada used to surprise immigrants with their different types of visa programs. Now government has invited 2.750 candidates who can easily apply for their permanent residence in express entry which is totally new. Express entry draw for PR candidates took place on Dec. 20, 2017. Ranking system which is comprehensive for this draw was 446 and score cut-off was totally down and reaches 6 points as compared to previous draw. Last year cut-off of draw was 452 but now it immediately get some hike.
All you need to know about PR program
If we talk about previous draw then it is clear that draw, immigration, Refugees and citizenship Canada make the tie break system according to employed. There are some candidates who have scored 446 and they receive invitations to apply. It is the only tie-break system that allow candidates with 446 score under express entry in which date and time noticed by IRCC.
Graph That Shows Hike year by year in express Entry system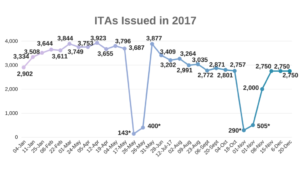 If we talk about Wednesdays draw then it follows the schedule of November and there are four draws in first three weeks. According to these draws the government has followed the Canada's new multi-year immigration plan. ITA targets about their announcement that express entry for three economic categories in 2018 is expected that IRCC have to perform larger  more frequent from express entry in new year.